Have you ever looked back on your life and realized that if you had made a left turn instead of a right turn or missed a certain flight or never attended a certain event, your life would be very different today? Have you ever met someone and realized later that your whole life took a different course because of meeting that one person?
Such is the case in the life of Warren Hardy, of the Warren Hardy Spanish School, well known here in San Miguel de Allende, and his first Spanish-language student.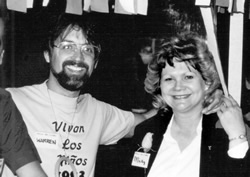 One day about 32 years ago in Flagstaff Arizona, precipitated by a significant birthday, Mickey Babbitt woke up one morning and announced to herself, "This is the day to realize my lifelong dream to learn to speak Spanish."
Later, on that same day, Warren Hardy, barely old enough to legally order his first Margarita, was taking a painting class in Flagstaff. He glanced up from his canvas to see his art teacher speaking to a woman and pointing him out to her. After class, Mickey Babbitt came over to Warren and explained that she wanted to learn Spanish and had asked the teacher if any of her art students spoke that language. Warren had spent his formative years in Argentina, did speak fluent Spanish and, while he explained to her he had never attempted to teach Spanish to anyone before, he agreed to give it a try. He was a student at Northern Arizona University and could certainly use the extra money.
Mickey was impressed by Warren's seemingly innate teaching ability and soon began to recommend him to her contacts in the area, who happened to be adults in the medical and legal professions. Before he knew what had happened to him, with Mickey's encouragement and her contacts, Warren had a dedicated flock of students on his hands. By the time he graduated from NAU two years later, he had written his first Spanish language textbook and had put himself through school teaching three nights a week.
We could end the story here and say, "The rest is history," but there is more. It all takes place here in San Miguel de Allende, with the most recent installment in August 2004.
After graduation, Warren moved to Tucson and began working for Xerox, still nurturing what had become his passion, teaching Spanish. By 1976 his school had grown so large that he quit the corporate life and dedicated himself to the flourishing language school that his "passionate hobby" had become.
"I'm just an ordinary guy who was lucky enough to find his calling early in life. It was my first student, Mickey Babbitt, who opened the door to teaching for me and introduced me to my bliss. When I was young, I had a talent for art, and I thought my creative livelihood was going to come in the form of painting. While in Tucson, I took a body of my work to a master artist to see if I had what it takes to make it as an artist. He assured me I was good enough to be a professional, but he told me, "If you don't have a real passion for it, don't do it."
"What an epiphany that was! I knew right then that my real love was teaching, so I packed up my easel and devoted the rest of my life to teaching language."
Coincidentally, some ten years after their first encounter, Mickey Babbitt moved to Tucson, too, and again took classes from Warren at his school there, Language First. "Oh, it was wonderful," Mickey remembers. "It was set up like a theater, and we were the actors. There was a Mexican restaurant stage-setting for ordering, with menus, and an airport setting, even a large Mexican map on the table where groups of us would have our matchbox cars and travel from place to place. We were adults, mind you, but we got so involved in our journeys that we just had to learn to speak Spanish."
Through the next 20 years, Mickey and Warren lost touch. "He seemed to have just dropped off the planet," she lamented. Last year, Mickey was planning a journey to the colonial heartland of Mexico with four of her friends. The occasion—another milestone birthday. While Mickey had traveled in Mexico and even lived in northern Mexico for periods of time, she wanted to come to San Miguel de Allende as a gift to herself to celebrate her 70th birthday. Reading through the guidebooks, she was stunned to find herself reading about the Warren Hardy Language School in San Miguel.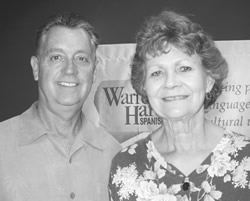 So another dream comes true for Mickey, and another story comes full circle, as Mickey—now fluid in Spanish, but needing "to brush up on the subjunctive"—is once again a student of Warren Hardy and still enjoying every minute of it. As they hold hands, Warren chuckles, "Yes, 32 years later, and she has finally made it to Level 4!"
Not only was Warren in the right place at the right time to meet Mickey Babbitt, but all of us who have availed ourselves of his classes have her to thank in some serendipitous manner. Happy Birthday, Mickey, and thank you!