Study Spanish in beautiful San miguel de Allende, the jewel of colonial Mexico
San Miguel de Allende, the jewel of colonial Mexico, is so full of architectural treasures that it has been declared an UNESCO City.
In 2020 Travel and Leisure choose San Miguel de Allende as the number two city in the world to visit. Fortune Magazine rates San Miguel de Allende as one of the top 20 destinations in the world and Conde Naste recently named San Miguel de Allende as one of the top three cities in North America to live.
In the early 1700s, it was one of the richest cities in the world. San Miguel's cobblestone streets and lovely gardens have charmed thousands of visitors who relish its mild climate, and its internationally-known art and language schools.
Warren Hardy Spanish is located only a few blocks from the center plaza in front of one of the oldest cathedrals in San Miguel. San Juan de Dios was built in the 18th century. At the end of the same block is the largest marketplace in San Miguel. Warren Hardy Spanish is truly located in the heart of Mexico.
Conveniently located in San Miguel, the Warren Hardy Spanish School is just a few short blocks from the Parroquía and Jardin en el centro!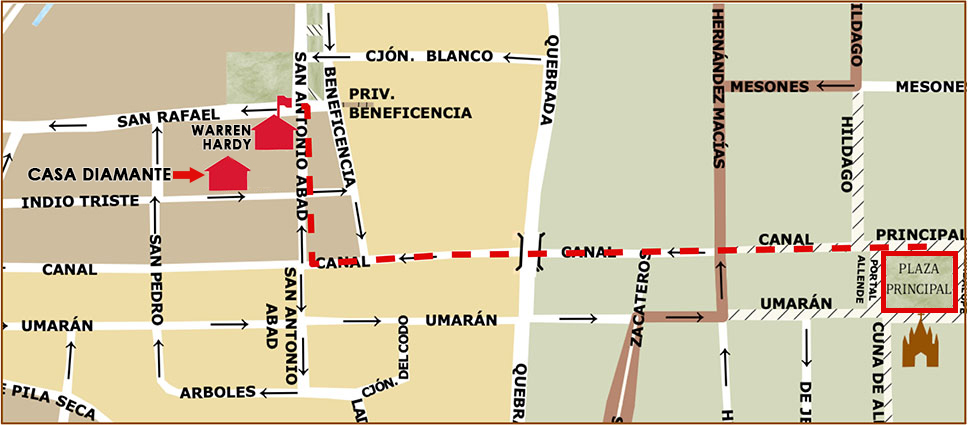 The nearest airports of León and Querétaro, are both 1 1/2 hours away from San Miguel. The airport in Ciudad Mexico is 4 hours away by bus.
If you arrive late at night or have a very early flight we recommend that you book a hotel near the airport. We have a list of airport hotels below.
Prearranged shuttles will pick you up at the airport and drop you off at your accommodation. Check with these preferred vendors. A reservation is required.
BajioGo Airport Shuttle
Phone: + 52 415 152 1999
ViajesSanMiguel.com
Phone: + 52 415 152-2537
Private Driver Kristopher Kegel
+52 415 105 1045 kfkegel@gmail.com
QUERETARO:
LEON:
Mexico City:
Why not try the sleeping pods in Mexico City Airport:
Warren teaches his course on video just like he does in the classroom.
Free Spanish and Mexican Culture lessons
Enjoy free Spanish instruction from Warren Hardy.
How to have good relationships