Teacher Certification Programs
Teacher Certification Programs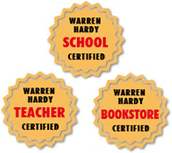 Teach Spanish and explore exciting business opportunities using Warren Hardy's proven methods and products. Become a Certified Warren Hardy Spanish Teacher. You'll find all the information you need to start earning today.
Business Opportunities in Teaching
We are recruiting entrepreneurial teachers and trainers. If you want to have the freedom to teach when you want, who you want, where you want, charge what you want, and not have to grade homework…. you may want to become an entrepreneurial teacher to the general public, or corporate sector.
Corporate, Education, Government… It's Your Choice
We currently have professionals teaching the Warren Hardy Spanish System in the following areas:
Benefits of Entrepreneurial Teaching
It's the wave of the future. Here are a few of the many advantages:
Public School Teachers are Making the Switch… and Here's Why
If you are a teacher in a public school, you may want to explore teaching a couple of nights a week in another venue: in someone's home, or any classroom space you chose to use or rent. We suggest charging ten dollars for one classroom hour per student.
Personal Coaching from Warren Hardy Master Teacher and Business Builder
After you've completed the Teacher Certification process, you will continue to receive personal coaching from me, Warren Hardy, by email and through regional seminars. My goal is to ensure that you are successful and excited about teaching! I want you to teach successful classes, make money, and unite people through language learning.
There are millions of Americans who want and need to speak Spanish. They live right in your community and they are are looking for what you have to offer. Why not create a win-win situation by offering your much needed services and increase your income at the same time?
If you are interested in using the Warren Hardy Spanish System in your existing classroom, and want to create your own classroom – please fill out the form below…
Join our team!
Take a few minutes to tell us about yourself and the type of business opportunity you are interested in.